The goals of a typical SEO Management program are to increase the amount of relevant traffic to a website by improving its rankings, expanding the number of phrases and methods (shopping, video, local, image) for which the site ranks, and enhancing click through rates.
Contrary to popular belief, the search engine ranking algorithms do not change significantly on a regular basis so it is not really critical to be making constant "SEO Updates." In reality, the algorithms have evolved slowly over time as new methods and technology have been employed to combat questionable techniques, improve the quality of the search listings, personalize search and blend video, news, images, and other results into the main search engine results page (SERP).
All of our SEO Management Programs are customized to our clients needs and goals, but often include the following:
Diagnostic Crawls
With Google Webmaster Tools and other diagnostic software, it is relatively easy these days to monitor the technical elements of one's website as it relates to SEO. Certainly, if one has technical issues that inhibit search engines from indexing their content or deletes content without setting up the proper re-directs, the impact on one's SEO program can be great.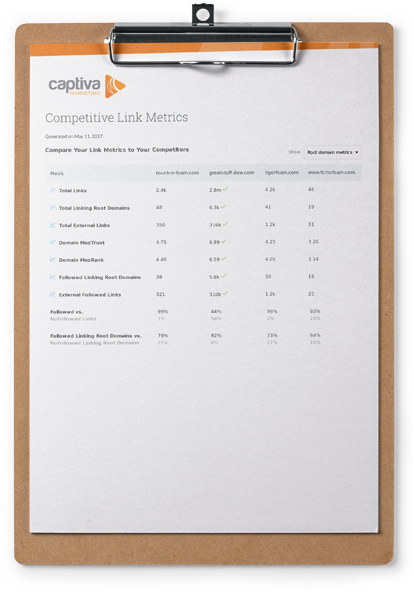 By analyzing Competitive Link Metrics, we can better determine how much link authority a site will need to compete for top rankings.
While we often recommend diagnostic reviews on all SEO programs that we manage, the frequency of these audits often correlates highly with the following attributes:
How large and complex the website is
How often the site is updated
How many people the site is being updated by
Whether the search engines applied any new key elements to the algorithms
"We started doing SEO before Google was even an important search engine."
- Mark Forst – Founder, Captiva
Content Development & On-Page SEO
One way to rank well for more searches is to develop content (text, video, imagery, etc.) and ensure that it is optimized for the search phrases you want to target. This tactic typically requires a site with enough "Domain Authority" or a program to promote your videos or images, but building great content that people want to read, view, share and link to has been the foundation of SEO since its inception.
Link Acquisition
As one can imagine, simply adding and optimizing content, video, and images is not going to be enough to rank well unless no other sites have content relevant to the subject matter at hand. So, depending on the competitive nature of one's industry, ongoing link building is typically critical to achieving high rankings and generating more visits, leads and brand awareness from SEO.
Unlike on-page optimization which is relatively limited in its scope, there is no limit to the amount of link popularity a site can get so it is an area in which we tend to focus much of our ongoing efforts. From our experience, the best way to to do this is to:
Create engaging content that people actually want to share and link to.
This is why infographics, interactive tools, videos and research studies, polls and other highly informative content are so critical to an SEO program. Of course, even this great content may need to be promoted with advertising, PR, social media and other methods in order to get the message out.
Improve Conversion
Once a site starts generating a significant amount of relevant visitors, there is often the opportunity to increase leads/sales by:
Improving/enhancing the marketing message on the top landing pages
Integrating more powerful calls to action
Addressing concerns identified by sales, customer service or online inquiry forms
Ultimately, today's SEO programs are often highly integrated with all of one's promotional efforts as the competition for top spots is intense. Our team can help you prioritize efforts so that we can focus on those that will provide the best return.