One of the most common problems we see in sites that rank poorly in the major search engines is that they simply do not have enough link popularity. Search engines utilize incoming links to a site as one of the most important factors in determining where a site will rank. As such, sites with very little link popularity rarely rank well for phrases that are even mildly competitive. As part of our comprehensive site analysis, we review your site's existing link popularity and compare it to not only your direct competitors, but to other sites that are ranking well for your desired search phrases.
This analysis will give us a good feel for the results that you can achieve with your site's existing link popularity, how much additional link building will be needed to achieve your goals, and some idea for the costs and time that will be needed for your site to improve in the organic search rankings.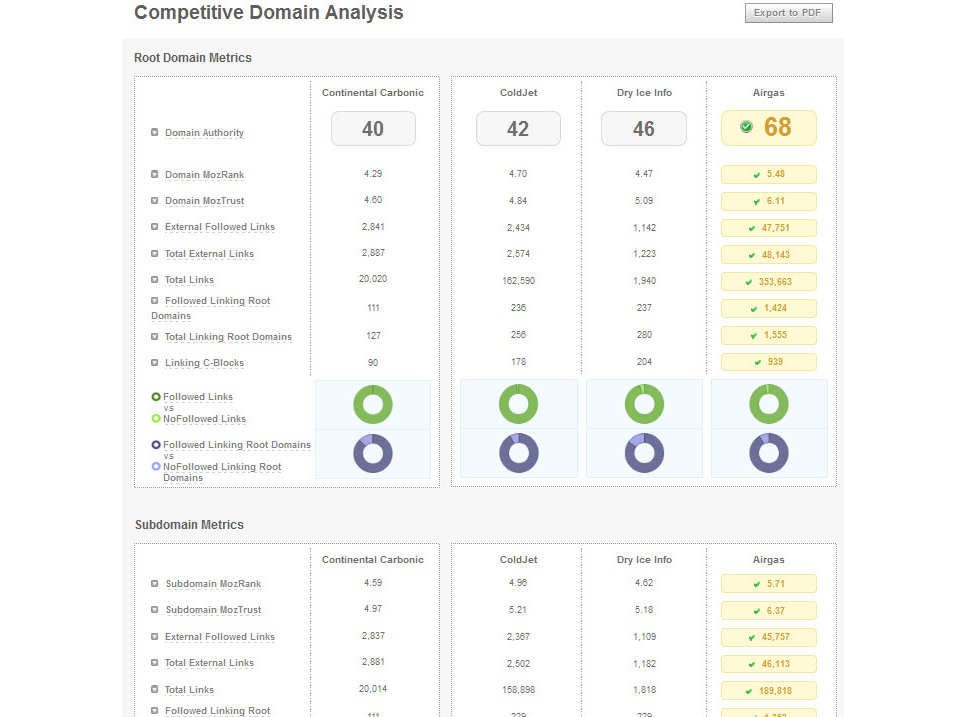 What is Link Building?
Simply put, link building is the practice of generating hyperlinks to one's website from other websites to show that it is more IMPORTANT than other sites/pages that are RELEVANT for a particular search phrase.
When search engines were first introduced to the world, ranking algorithms primarily rewarded sites with highly RELEVANT content…specifically those with the keyword search words in the title tag, body content, headline, internal link text, meta data, alt tags, etc.. Unfortunately, the number of variables used to determine RELEVANCE is very limited and as the Internet evolved, it became evident that ranking web pages purely with regard to on-page attributes was not going to be scalable.
Google founders Sergey Brin and Larry Page identified this problem and developed a concept called PageRank, a mathematical formula applied to each web page to rank its IMPORTANCE. PageRank assigns value to each page by measuring the quality and quantity of links coming into the domain and page and it is one of the primary reasons that Google became the world's largest search engine and all other major search engines utilize the link building concept today in their ranking formulas as well.
"Either write something worth reading or do something worth writing about."
- Ben Franklin
Why is Link Building Important?
Technical SEO ensures that a page can be indexed and web page optimization shows the search engines that a page is relevant for a particular search phrase, but is the inbound links that let the search engines know the page is IMPORTANT and deserves to rank highly for that particular phrase. In today's competitive environment, it is not uncommon for dozens or hundreds of sites to be equally RELEVANT for a certain keyword search. To outrank competitive sites, publishers need to show that their web pages are more IMPORTANT than these other relevant pages and this is done by generating links to one's website.
The following graph from the research organization Moz.com estimates that link metrics are responsible for about 40% of the ranking formula, but from our experience, this percentage is even higher for less competitive industries.

Source: Moz.com
How many links does your site need?
The amount of link popularity your website (or its pages) needs to earn top rankings depends heavily on how many other relevant pages exist in the search engine's index for that particular search phrase. As one would expect, generic phrases like "car insurance" or "books" are going to be significantly more competitive than long-tail phrases like "car insurance agents in St. Louis" or specific phrases like "The Wealth of Nations by Adam Smith." The number of links one needs is also affected by the quality of these links and the manner in which they are constructed.
Captiva Marketing Account Managers can help assess your site's individual needs by reviewing its existing link popularity and the level of competition for your target keyword phrases.
"People do not buy goods and services, they buy relations, stories and magic."
- Seth Godin - Marketing Guru
So, what kind of links do you want?
As stated above, not all links are weighted equally by the search engines. In a general sense, link metrics can be divided into three categories:
Raw Link Popularity - The pure mathematical popularity calculated by the quantity of links to a site and their given PageRank scores.
Trust & Authority - Weight applied to the formula based on the how authoritative the site linking to your site is. (For example, the Wall Street Journal is more authoritative than some random blogger.)
Anchor Text - The concept that a link configured as "metal widgets" will help a site rank for searches containing the words "metal" and/or "widgets" more than a link configured "ABC Manufacturing."
10 Key Variables Affecting the Value of a Link
1. Passes PageRank: Unfortunately, not all links from one site to another are counted by search engines. Google encourages publishers that sell links (advertisements) to utilize nofollow tags and most banner ads run through ad serving software that prohibits the search engine spiders from following the links. If a link does not pass link popularity, it is essentially worthless from a link building perspective. While there are many ways to determine if a link passes PageRank, we typically utilize software to detect this attribute. For instance, the software quickly tells us that inbound links from Facebook will not directly help our link building efforts as they have nofollow tags applied.

2. Authority (Domain Authority & Page Authority): Research indicates that search engines attempt to measure how much trust or authority a site (specifically the domain and its pages) when determining the value of a link. Historically, one could simply look at a pages PageRank score to determine this value, but Google does not always update and report on PageRank accurately, so we utilize software to help measure the Authority of inbound links as shown below.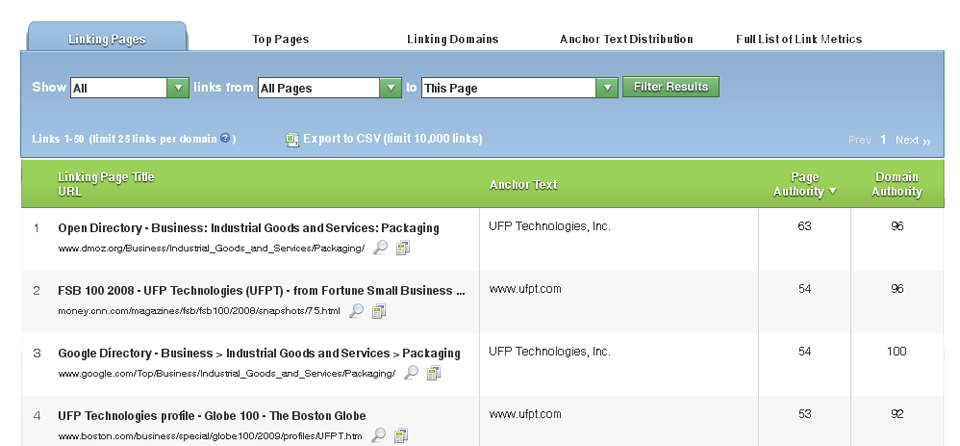 3. Relevance: Some research indicates that links from sites that are more highly related to the content on your site, the more weight it will have.
4. Volume: The more quality links you can get to your site, the better. Some methods of link building have the potential to generate many more links than other methods. For example, an online press release has the potential to get picked up by many publishers and generate many links to one's site.
The software we use provides all types of information about the number, quality, and configuration of your links and your competitors.

5. Anchor Text: Generating links with keywords in them instead of one's company name or URL is generally considered the most important factor for ranking well in the search engines. "Text Links" have traditionally been very challenging to obtain and manipulate so this element continues to be a major factor in the ranking algorithms. Our link building software allows us to quickly review your site's link text distribution and identify where competitive sites are getting text links.
6. Deep Links: While most links go to one's home page which distributes this link popularity throughout the site, it can be very effective to get links to other pages "deep" within the site. This looks more natural to the search engines and typically provides more PageRank to the specific page. The software we use can help identify deep links as well as 404 errors.
7. Risk: Google frowns upon certain methods of link building especially those in which one pays for links with the sole purpose of increasing a website's link popularity. Unfortunately, this is a very grey area. While Google would like for all advertisements to utilize nofollow tags so that only "natural" links are counted, its attempts to police questionable link building tactics are weak and its guidelines are vague. Still, it is important to assess the risks with any opportunity.
8. Cost: Link building opportunities and methods differ greatly in the amount of time and financial costs associated with them. Some have one-time costs and may generate links forever while others may need to be renewed on a yearly basis.
9. Time: All link building activities require some amount of time. It can help to re-purpose content for multiple methods and prioritize activities based on the time available.
10. Difficulty: Some methods of link building may be as simple as submitting one's site to a directory while others require extensive writing, relationship building, or creativity.
Other Benefits: Some link building opportunities do very little for your business except help your website's link popularity while PR, Advertising and other methods may benefit your business through increased brand awareness, lead generation, etc...
"There is only one thing in the world worse than being talked about, and that is not being talked about."
- Oscar Wilde
How Can Captiva Help Get Links to My Site?
In an ideal situation, one's site would be so rich with informative content, research, or entertainment that other publishers would simply link to it as a service to their site's visitors. Unfortunately, while this situation may exist for companies like CNN, Apple, Nike, and Disney, most companies and organizations need to generate specific plans to generate links. We typically categorize link opportunities into the following categories:
Create content (information, research, videos, images, charts, infographics, infoanimations, etc..) that other sites will want to link to.
Research the backlinks of competing sites to identify opportunities like relevant directories, trade shows, information sites, blogs, forums, etc..
Get listed in all relevant directories and buyers guides…industry, local, environmental, etc..
Engage writers and send out press releases to relevant publishers and through a wire service.
Monitor blog and forum activity and comment if it makes sense.
Request links from relevant dealers, suppliers, partners, etc..
Send out press release to relevant publishers and through a wire service.
Monitor your brand name mentions and request links back to site.
Sponsor relevant sites and charities.
Exchange or request links from complementary sites that may send you relevant traffic.
Interlink any other relevant websites, microsites or blogs you control.
Monitor Question and Answer sites and answer as you are able with link to more information.
Show you the value of joining local organizations like BBB, Chamber of Commerce, etc..
Create social media accounts and promote the site via referral.
Education & Support
As part of our program, we also advise clients on how to best structure their linking campaign (to complement their on-page optimization) and often run their ongoing link building efforts as part of our monthly management programs.